Der Schrägstrich feiert ein kleines Jubiläum! Trotz des holprigen Starts und vielen unerwarteten Hindernissen hat es das Team im vergangenen Jahr geschafft, die 5. Ausgabe von Schrägstrich zu erstellen.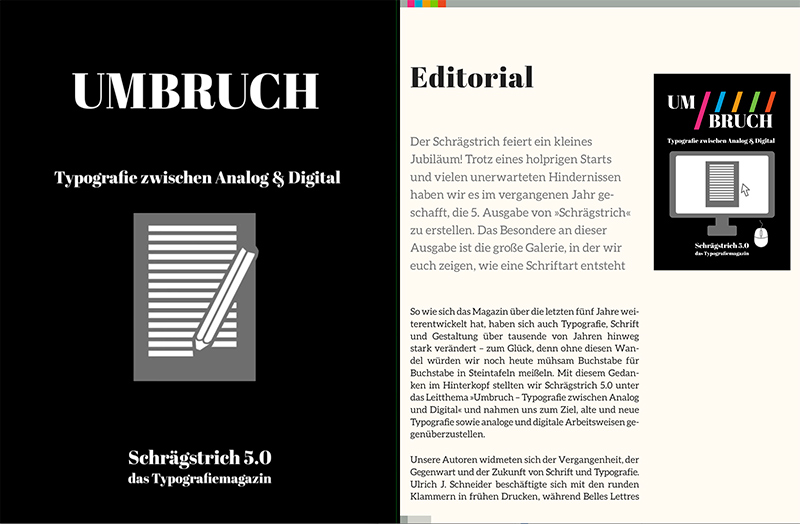 Schrägstrich – das Typografiemagazin ist eine Arbeit von Studierenden des Studiengangs Buch- und Medienproduktion im Modul Projektmanagement an der HTWK Leipzig. Die neue Ausgabe beschäftigt sich mit dem Thema Umbruch – Typografie zwischen Analog und Digital und nimmt sich zum Ziel, alte und neue Typografie sowie analoge und digitale Arbeitsweisen gegenüberzustellen. Das Magazin ist unter diesem Link kostenlos für den Download verfügbar.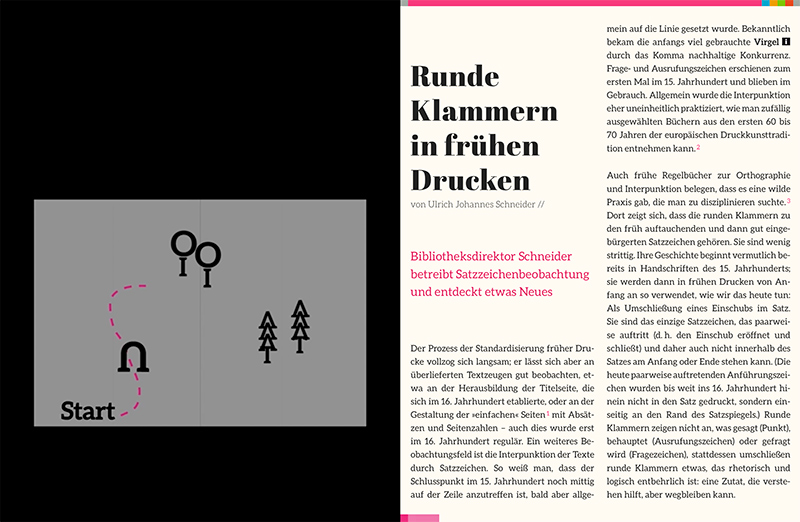 Die Autoren widmeten sich der Vergangenheit, der Gegenwart und der Zukunft von Schrift und Typografie. Ulrich Johannes Schneider beschäftigte sich mit den runden Klammern in frühen Drucken, während Belles Lettres in einem Video erklärt, wie Schrift überhaupt entstanden ist. Martin Z. Schröder, Rudolf Paulus Gorbach und die TypeMates erzählen uns, wie sich ihr Berufsbild durch die Digitalisierung verändert hat und vergleichen dabei früher mit heute. Außerdem stellt uns Gerd Fleischmann das Magazin »Emigre« vor, das mit der Digitalisierung entstanden ist. Für die Zukunft müssen wir schon heute an spätere Generationen denken: Anja Grubitzsch zeigt uns Methoden, um Papiererzeugnisse vor dem Verfall zu schützen, während Heidrun Lutz nachhaltig arbeitet.

Das iBook funktioniert auf iPads mit iBooks ab Version 2 und iOS 5 (oder höher) sowie auf dem iPhone ab iOS 8.4 und dem Mac ab OS X 10.9.
Verwandter Artikel
»Schrägstrich – das Typografiemagazin« ist das erste digitale Magazin mit (Weiter-) Bildungsfunktion zum Thema ...
Submitted by Julia on 15.01.2014
in Interactive, Magazines, Study Projects, Typefaces 2 comments
Nächster Artikel
I have been (not so patiently) awaiting TypeCon ever since Boston was announced as the host city for 2017. Boston—a ...
Submitted by Isabella on 26.09.2017
Vorheriger Artikel
Der Zauber einer gründlichen Reinzeichnung wird von vielen Designern unterschätzt. Michael Neuhauser hat ein ...
Submitted by Clara Weinreich on 25.09.2017